My Sister the Vampire by Sienna Mercer is about...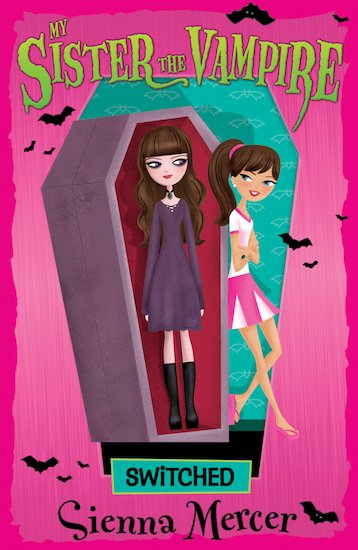 Two girls, one called Ivy and one called Olivia. Olivia starts at a new school and gets lost in a hallway and stumbles across Ivy who tells her where to go. But Ivy keeps getting this strange feeling whenever she sees Olivia. It gets even worse for Ivy when they are in class and she sees Olivia has the same emerald ring that Ivy has got. She takes Olivia into the bathroom and they look in the mirror and the have the same face. They find out that they are identical twins. Olivia thinks she knows everything about Ivy, but she doesn't. Ivy has a big secret that she can't tell anyone.
Olivia and Ivy practice cheer leading and Ivy falls into a spiky bush. Olivia dabs and tries to find a cut but there isn't one. She asks Ivy where the cut is. Ivy explains to Olivia that she is a vampire and Olivia doesn't know what to do.
Olivia is a pretty girl who loves pink and Ivy is a goth who only likes black things.
This book is amazing for girls about 8-11. There are plenty more books that come after this and I would love to read them. My Sister the Vampire is one of those books where when you start you don't want to stop.
I am such a bookworm!!!